Wood Finish | Finish Technology
Hallmark Floors offers world-class floor finishes and finish equipment aimed at making our floors as durable as they are beautiful. All Hallmark Floors Hardwood finishes are EPA TSCE Tittle V1 compliant. We have, in fact, been proactive in making this great product safe for its users. View our certification here.

NuOil® Hybrid Multi-layer Oil Finish
NuOil® incorporates new hybrid technology, creating a highly durable, stain and fade resistant finish. NuOil® is easier to maintain than traditional oils and does not require immediate re-coating when the floor is installed. They come with an extensive warranty.
NuOil® – Simply worry free
The revolutionary oil system using hybrid technology making it:
Highly Durable

Easily Renewable
Stain Free Resistant
One step better, one step less for a worry free floor.
NuOil® FINISH PROCESS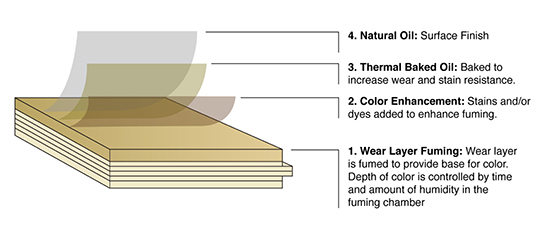 The history of oil finishes on hardwood floors.
Antiquity – Natural Oil: Derived from plant seeds this finish allowed new civilizations to seal wood floors. The downside was that they required frequent reapplications and could not protect the wood from common staining agents.
19th Century Hard Wax Oil: – This was a revolutionary step forward in that with the development of petroleum paraffin wax was now very affordable. Wax was now mixed into the natural oils making the coatings thicker and the reapplication of oil less frequent. However, the downside of vulnerability to common staining agents, coffee, tea, wine, mustard, etc., still remained. This product arrives at the job site primed not fully finished requiring a coat of oil to be applied adding cost. This solvent based oil is flammable and requires long drying times after application
1960's UV Oil: Closely resembling polyurethane UV Oil eliminate dissues with common staining agents. However, they do not have the resistance to wear of modern polyurethanes and are thus susceptible to premature wear. Maintenance systems comprised of acrylic polishes are prone to build up.
21st Century – Hallmark Floors NuOil®: A hybrid two stage Oil finish for a new era! Hallmark creates the color in layers and then seals the floor with a thermal cured oil. Additionally, a blend of unique natural oils are then added on top of the thermal oil offering an unsurpassed level of stain protection for the floor. Simple maintenance systems eliminate the flammability issues of other oil systems, with simple trigger spray applications for the 21st centuries busy lifestyles.
Truly Versatile
Hybrid Multi-Layer finish produces the most durable and versatile oil finish in the marketplace. NuOil® is unsurpassed in stain & wear resistance.
NuOil® PASSES STAIN TESTS
16 hour stain tests for NuOil® Finish
Cranberry Juice – Pass
Mustard – Pass
Red Wine – Pass
Tea – Pass
Coffee – Pass
Alcohol – Pass
Hard Wax Oil Fails
Cranberry Juice – Fails
Mustard – Fails
Red Wine – Fails
Tea – Fails
Coffee – Fails
Alcohol – Fails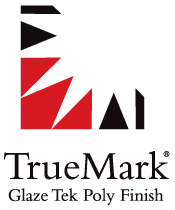 TRUEMARK® GLAZETEK  FINISH
In the TrueMark® GlazeTek Poly Finish, years of research and development have resulted in the first true high fashion, glazed furniture-finish applied to a hardwood floor. To achieve unique depth and richness, we use four coats of hand applied glaze and accent colors, and 8 more coats of ultra clear finish, for a total of 12 coats of finish. Nano technology is incorporated into the surface and fortified with aluminum oxide. The result is a finish that is so durable that it carries an extensive warranty against wearing through.
Collections from Hallmark Floors are finished with TrueMark® GlazeTek Poly Finish:
Monterey
Moderno
Novella (Maple & Hickory only)
SIMPLY ENDURING
Coated with our Nano Tough technology and hand touched glazing for
Superior Color Depth
Superior Durability
Where durability and fashion meet for unparalleled performance and looks.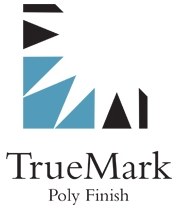 TRUEMARK® POLY FINISH
Based on the latest technology in finish systems, our TrueMark® Poly Finish is unsurpassed in ensuring the most protective, clear and easily maintainable coatings. Revolutionary nano technology is used in the surface coats to maintain the beautiful appearance and durability of the floor. Truemark® Poly finish has nine coats of ultra clear finish and fortified by aluminum oxide and nano technology. The result is a surface so durable it carries an extensive warranty against wear and tear. Aluminum Oxide is also added to provide maximum strength for your floor. TrueMark® Poly Finish, combine fashion, function, and beauty to protect your wood flooring investment for the future.
Collections from Hallmark Floors that are
 finished with our proprietary TrueMark® Poly Finish:
Heirloom
Chaparral
Silverado
TRULY SUPERIOR
Durability, Longevity & maintenance made easy are our benchmarks when creating our TrueMark® poly finish… for,
Superior Color Depth
Superior Durability
Protecting your wood flooring investment for today and tomorrow.
You will find the different wood educational categories in the sidebar to the right or if you are on a mobile phone, at the bottom below.